Pro Shop
Since we are located in an area without a golf store, Hobbs Hole carries a wide variety of products to cover your golf game.  We carry a full line of equipment, clothes, and other golfing accessories. Our Pro Shop consists of items from Taylormade, Titleist, Bridgestone,  Callaway, and Cobra just to name a few. You can find all of the necessary equipment for a day of golf, or an entire season no matter what your tastes. The best sellers of 2020 at Hobbs Hole were the Taylomade SIM, Callaway Maverick drivers/irons, and Odyssey Ten putters.  Look at our event schedule for upcoming Demo Days at the range!  We are having a clearance sale right now on the wooden rack inside the golf shop!!  Take advantage of opportunity buys on last year's demo clubs as well as several trade-ins.
Practice Facilities
The Bermuda grass driving range and large bent grass putting green provide an exceptional place to warm up before your round. Be at the top of your game when you tee off and show your confidence on the greens. We're open until dusk if you would like to practice that shot you just couldn't hit on the course to make sure you are ready for the next time you play with us at Hobbs Hole.  Lessons are available 6 days a week by PGA Professional, Troy Thorne!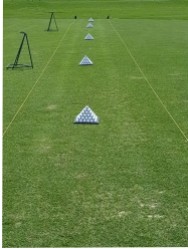 Fairways Bar and Grill Restaurant
Fuel for your game is provided in the Fairways Bar and Grill.  A light snack at the turn or a full meal after and before your round will help you stay focused on the course. Have a drink with your golf buddies while you collect your thoughts about the exceptional round you may have had. Contact the restaurant today (804) 443-1800.
Hobbs Hole Golf Course/Fairways Bar and Grill
1267 Hobbs Hole Drive, Tappahannock, VA 22560